APS offers new methods of production in the precast sector, using automated plants to optimize the productivity of projects previously achieved only using stationary plants. The brand benefits from CBE Group's experience, a pioneer company in the automated production of tunnel segments.
An optimized concrete production
Automated precast plants, also called carousels, allow to optimize the production process and therefore the project's performance. In an automated production, the equipment and operators do not move from one mould to the other: it is the moulds themselves that move on rail from one station to another. It allows an increase in quality, in speed of execution and proves to be cost-efficient.
Watch the video of an armour unit automated plant, an APS exclusivity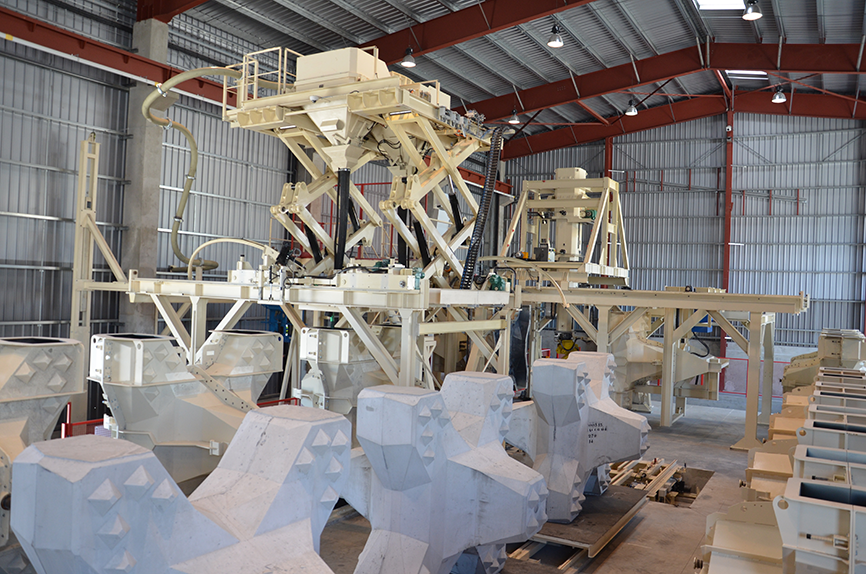 APS chose to mirror the model of automated plants for the production of tunnel segments, and to extend it to other precast applications. The brand thus offers made-to-measure global solutions for harbour, railway or housing projects. It can examine requests regarding the performance optimization of any precast project. For these solutions, APS proposes tailor-made formworks and specific equipment, associated with the set-up of an adapted automated plant.
Advantages of an automated production of concrete elements
The production of concrete elements using automated solutions has many advantages:
An increase in productivity: the production rate and results are determined beforehand in our Design Office
Consistent concrete elements with a steady quality, inducing less rejection
Decrease in flows inside the plant, thus reducing risks for operators
Less operators onsite, for a higher productivity
Reduction of the ecological footprint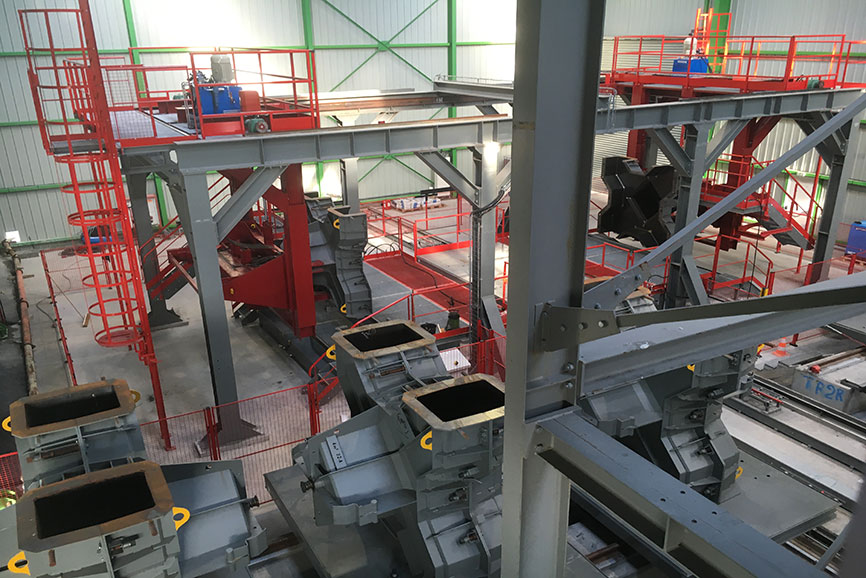 Tailor-made automated plants
APS is able to offer new automated production methods for most of the precast concrete pieces. The Design Office studies each and every specific demand, and offers an innovative solution allowing to optimize the production and the whole project. The more specific the project is, the more we will try to find an adapted solution. As a consequence, each plant becomes unique, and answers fully our clients' needs and their productivity goals.
Using these methods, APS achieved a technical prowess in 2014, with the design and production of the very first automated plant for the production of armour units meant for breakwaters, for the "New Littoral Road" project in La Réunion, a plant able to produce up to 36 concrete pieces a day.
APS, expert in tailor-made solutions for precast concrete elements production, assists you during your whole project. Do not hesitate to contact us or ask for a quote.