APS provides the equipment deemed necessary for the good functioning of its automated plants. This equipment will ensure the correct handling of the moulds and concrete elements inside and outside the plant, as well as the functioning of the different stations of the plant for the precast concrete project.
An equipment designed according to the clients' specifications
The equipment which is essential to the plant's functioning is already integrated in the contract that APS prepares for its clients. Since APS solutions are usually innovative, the equipment is tailor-made for the client's project. The Design Office starts from an existing equipment and customizes it to fit the client's needs. Each time, APS is able to advise its clients and to adapt to specific demands.
A few examples of new equipment designed by APS :
C-Hooks for ACCROPODESTM or XBlocs ®
Bespoke machines
Equipment for heavy load lifting (demoulding vacuum lifter, trolley, turning lifter, clamp or C-hook)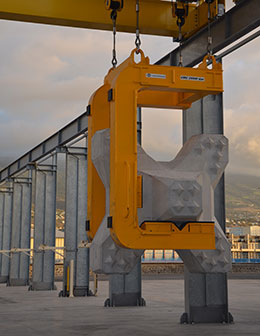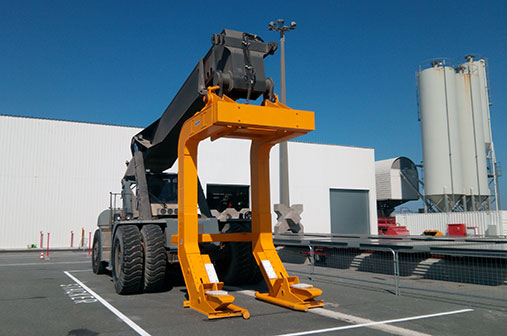 A partnership based on excellence
APS can ensure the creation of tailor-made lifting equipment for heavy loads thanks to CBE Group subsidiary ACIMEX, expert in vacuum lifting for the past 51 years.
The company represents quite an asset for APS, which can therefore offer customized solutions to its clients, regardless of the concrete element's shape. The vacuum lifting process is secured by the use of tailor-made suction pads, adapted to the size and weight of the concrete element they need to move. When the use of suction pads is not recommended, we offer our clients an alternative with the use of hydraulic clamps or mechanic lifting equipment, also tailor-made for the project.
APS, expert in tailor-made solutions for precast concrete elements production, assists you during your whole project. Do not hesitate to contact us or ask for a quote.