Since the success of the automated plant for the new Coastal Road in La Réunion in 2014, ACIMEX and APS have renewed the operation on the Aberdeen site or more recently for the Calais Port project : providing a full proposal to their client, which includes a carousel and tailored equipment.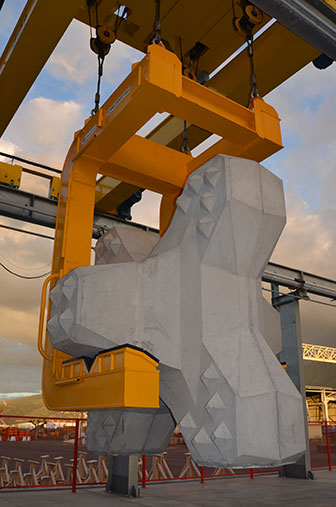 APS offers an adapted production solution to its client and ACIMEX includes its lifting and handling solutions to the factory.
Having proved this formula's worth since the beginning of the partnership, both entities decided to join their respective skills and expertise for each new project of the APS brand, in order to gain in productivity : one offer, one key contact for the client, all areas of expertise combined.
For more information : https://acimex.net/en/news/acimex-and-aps-successfully-collaborate-on-automated-plants-for-breakwaters.html
APS, expert in tailor-made solutions for precast concrete elements production, assists you during your whole project. Do not hesitate to contact us or ask for a quote.