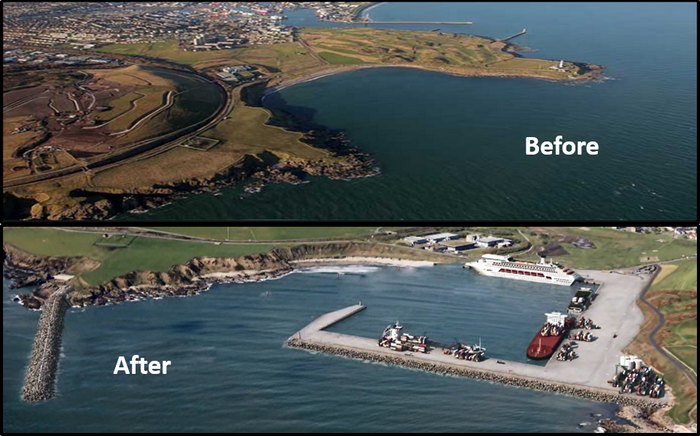 After the armour unit automated precast plant success in Calais and in La Réunion Island. APS signed its third contract to design and produce an automated Accropode II plant in Aberdeen, Scotland. The carousel should be built up by the end of 2017 and the armour unit production will start straight away.
The 3 400 sqm precast plant starts production on November 2017, and around 9 000 concrete elements will be necessary for the completion of Aberdeen's new seawall. At a rate of 30 concrete elements a day, the production should last 21 months. APS also provides the Accropode II moulds of 8, 12 and 16m³ to the project. The plant's equipment will adapt to the moulds sizes, and the concreting and demoulding stations will therefore be adjustable, just as the lifting equipments, in order to handle all the moulds no matter what size they are, and to allow the same flexibility in the production.
Aberdeen is one of the biggest harbours of the North of the United Kingdom. It plays a major role in energetic supplying, particularly of oil. The latter generates more than 1,5 billion pounds a year and creates 12 000 jobs, including 9 000 in Aberdeen. The harbour extension project will create 15 000 new jobs in the area and will generate more than 2 billion pounds a year.
APS, expert in tailor-made solutions for precast concrete elements production, assists you during your whole project. Do not hesitate to contact us or ask for a quote.